Wow! Wow! Wubbzy!: A Tale of Tails
DVD Release:
September 23, 2008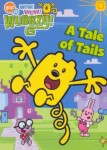 Synopsis
Meet Wubbzy! He's a fun, lovable, curious little guy who is always looking to have a good time with his best friends Widget and Walden in the wacky town of Wuzzleburg. Together they discover the importance of open-mindedness, honesty and friendship all while having fun. Join Wubbzy and his friends as they work together to resolve everyday problems in these fun-filled episodes. Watch as Wubbzy helps rescue Polly-Parrot, Widget builds a turbo-rocket to win a race and they all learn that being different is what makes them so special. Plus much more!
Dove Review
"A Tale Of Tails" is about a little creature named Wubbzy. This cartoon has a series of eight very educational stories. This is a good series for all ages. It does seem to gear itself to the preschooler. It combines a lot of laughter with some learning.
Children learn to not tell lies and always tell the truth. They learn to ask before they use other people's toys or belongings. All kids are different. These stories show how it is ok to be short, skinny, tall, or a different color. It doesn't matter how they look. Kids are all the same and should always be treated with respect. I found this to be a very pleasant cartoon to watch. This cartoon has been awarded the Dove "Family-Approved" Seal.
Info
Company:
Anchor Bay Entertainment