Journey to the Center of the Earth
Theatrical Release:
July 11, 2008
DVD Release:
October 28, 2008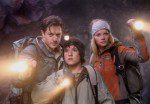 Synopsis
In this update of Jules Verne's "Journey to the Center of the Earth," Brendan Fraser portrays a geologist who, with his nephew (Josh Hutcherson), discovers a message hidden in an ancient artifact, leading them into a previously unseen world. "Journey 3-D" was shot in live action, with the otherworldly landscapes and creatures supplied by high-definition, photo-real 3-D technology.
Dove Review
I loved this movie! It's like taking a joy ride at a theme park for 90 minutes. In other words, it's a whole lot of fun. The viewing is enhanced by a great 3-D experience. At one point a creature jumped off the screen and alarmed my son who nearly jumped into the next seat! The 3-D imagery is that good! Not far into the movie you are thrown into the adventure and soon our main characters, Trevor (Brendan Fraser), Sean (Josh Hutcherson) and mountain guide Hannah (Anita Briem) are riding in mine cars, fighting terrible heat, trying to survive a lava pit, and facing many other surprises along the way.
The film has some nice human elements too as Sean gets to know his Uncle Trevor and he learns more about what happened to his deceased father. The uncle and nephew deal with grief and form a bond after the chaotic time they spend. They follow Jules Verne's novel as a guidebook to the center of the earth. There are some intense moments and frightening images of creatures, so we recommend the film for ages twelve and above. We gladly award our Dove "Family-Approved" Seal to this roller-coaster ride movie. This is what summer movies should be like. It is a fun-filled film for the family!
Info
Writer:
Michael Weiss and Jules Verne
Reviewer:
Edwin L. Carpenter