There is More to the Secret
DVD Release:
October 1, 2008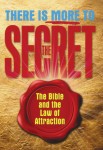 Synopsis
The Secret" is out–and it's a phenomenon that's sweeping the world. Some claim the law of attraction is the key that unlocks a great treasure chest–and by using positive thoughts you can fulfill virtually all your dreams.
• Are these claims just wishful thinking?
• What vital information do Christians need to know about this world-wide phenomenon?
• Are there biblical principles beyond the law of attraction that Christians can use to effect change in the world around them?
There is More to the Secret uncovers the answers with a sound, biblical foundation and a desire to discover the truth.
Join us as we go on a journey of discovery with a truth-seeking team of three of the most inquisitive people you'll ever meet. Pete, Hope, and Eddie are undergraduate students working on an article for their college newspaper. Their assignment is to find out everything there is to know about "The Secret". But, their investigation takes them to a place they hadn't expected. Is the most important part of the secret yet to be revealed?
In this one-hour television special, you'll hear from experts on both sides of the Law of Attraction. Christian experts and New Age advocates alike weigh in on possible explanations for what makes this "secret tool" work. Can Quantum Physics explain its inner workings? Does the Bible offer a better explanation? And is there anything similar to the law of attraction in Jesus' teachings?
For thousands of years, Christians have believed the One True Power in the universe is the God of the Bible. Is there an intersection between God and the so-called Law of Attraction?
There is More to the Secret takes the investigation to a higher plane to reveal an amazing intertwining of faith, philosophy, and real-world results … with answers to the questions that you need to know from the Bible and trusted Christian sources.
Dove Review
Grizzly Adams Productions has created a wonderful documentary that will create a topic for discussions when it comes to "The Law of Attraction." Follow three college students as they try to investigate the truth about this phenomenon. With comments by Christians, writers and philosophers plus scripture this film brings to light some discoveries for everyone. This is a highly interesting documentary that you will want to share with others.
Dove awards this documentary our Dove Seal but I must warn you that younger children may not understand it and get bored.
Info
Company:
Grizzly Adams Prod., Inc.