Character Builders: Vol 2 – Goodness and Faith
DVD Release:
July 1, 2008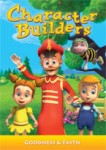 Synopsis
Capture your child's imagination with the delightful Character Builders series! In these fully-animated episodes, your child will learn valuable lessons about the fruit of the Holy Spirit. Filled with entertaining characters to teach important spiritual truths, Character Builders is sure to be a family favorite. With heart-warming stories and fun-filled songs, your child will enjoy learning positive character traits. Animated for today's generation, these adorable, timeless classics are perfect for your young children on a car ride or at home with the family. Collect the complete series today!
Episodes: GOODNESS: Come listen with Stevie and Nancy as The Conductor tells them a story! In the story, the Nzzzz Bee Family teaches Baby Nzzzz the importance of being good and doing hard work, even if others want to play. After doing what is right, Baby Nzzzz's name is changed to Good Nzzzz! Plus, your children will love singing two songs about Goodness.
FAITH: Travel to colorful Agapeland with Stevie and The Conductor! After playing with the rabbits, Stevie promises to help The Conductor. But as Stevie travels the trail, a crow tries to tell him to go the wrong way. Stevie does what The Conductor told him to do to even when he is scared and alone in the dark. Two exciting songs on Faith are included in this wonderful episode.
Dove Review
It is important to teach children to have good character. This wonderful Character Builders DVD teaches children about goodness and faith. Each episode starts with a definition or description of the word. The colorful animated characters tell a story and sing songs to help show the importance of these values.
Dove proudly awards this DVD the Dove "Family Approved" Seal.