Character Builders: Vol 3 – Honesty and Responsibility
DVD Release:
July 1, 2008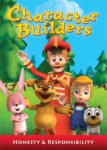 Synopsis
Capture your child's imagination with the delightful Character Builders series! In these fully-animated episodes, your child will learn valuable lessons about the fruit of the Holy Spirit. Filled with entertaining characters to teach important spiritual truths, Character Builders is sure to be a family favorite. With heart-warming stories and fun-filled songs, your child will enjoy learning positive character traits. Animated for today's generation, these adorable, timeless classics are perfect for your young children on a car ride or at home with the family. Collect the complete series today!
Episodes: HONESTY: DOGGIE BONES BLUES: Smuggles the Dog makes a new friend with Tunder the Puppy! But Smuggles notices his dog bones are disappearing. After watching Tunder, Smuggles knows Tunder is stealing his bones. When Buster steals Tunder's blanket, Smuggles helps Tunder learn a lesson on telling the truth. Included are two colorful songs on Honesty.
RESPONSIBILITY: BOUNCER AND THE SPRING HOPPERS: Bouncer the Rabbit's mom gives him a lot of chores; but he just wants to play with Stevie's new Spring Hopper shoes. Stevie lends Bouncer the Spring Hoppers to play with but Bouncer forgets to take care of them! Bouncer learns the importance of being responsible. Added are two sing along songs on Responsibility.
Dove Review
It is important to teach children how to be honest and responsible. Here is a wonderful tool from the Character Builders Series that can help show the values of these two traits. Children will enjoy watching these cute stories while learning about honesty and responsibility. Also in each episode are great songs they will love. Dove awards the Dove "Family Approved" Seal to this DVD.