Character Builders: Vol 6 – Politeness and Joy
DVD Release:
July 1, 2008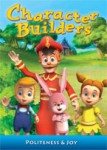 Synopsis
Capture your child's imagination with the delightful Character Builders series! In these fully-animated episodes, your child will learn valuable lessons about the fruit of the Holy Spirit. Filled with entertaining characters to teach important spiritual truths, Character Builders is sure to be a family favorite. With heart-warming stories and fun-filled songs, your child will enjoy learning positive character traits. Animated for today's generation, these adorable, timeless classics are perfect for your young children on a car ride or at home with the family. Collect the complete series today!
Episodes: POLITENESS: BOUNCER AND THE CARROT PRINCESS: Bouncer's mother tells him to say please. But when Bouncer has a chance to see The Carrot Princess, he cuts in line and doesn't pass the politeness test. Stevie and Nancy teach Bouncer to think of others before acting. Then, surprisingly, Bouncer gets to teach The Carrot Princess a lesson too. Included are two captivating songs on Politeness.
JOY: THE RABBIT WHO LOST HIS HOP: Bouncer is sad, and Stevie and Nancy want to help! They take Bouncer to the doctor; he says to travel to Sunless Valley to find Bouncer's lost joy. During their journey, Stevie, Nancy, and Bouncer meet and help an old man, a brown mole, and a tired mother. After helping others, Bouncer gets his joy back. Two sing along songs on Joy are included in this remarkable episode.
Dove Review
In this fast moving day and age, people tend to forget manners and being polite, and showing a little joy. Character builders has displayed these wonderful traits in this DVD for children. Using cute animated characters and lovely songs to show the importance of politeness and joy, and it's a great educational tool. Dove has awarded the Dove "Family Approved" Seal to this DVD.