Character Builders: Vol 8 – Patience and Peace
DVD Release:
July 1, 2008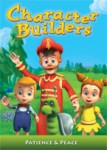 Synopsis
Capture your child's imagination with the delightful Character Builders series! In these fully-animated episodes, your child will learn valuable lessons about the fruit of the Holy Spirit. Filled with entertaining characters to teach important spiritual truths, Character Builders is sure to be a family favorite. With heart-warming stories and fun-filled songs, your child will enjoy learning positive character traits. Animated for today's generation, these adorable, timeless classics are perfect for your young children on a car ride or at home with the family. Collect the complete series today!
Episodes; PATIENCE: SNAILS IN A HURRY: Travel with Herbert the Snail and his family as they go to the circus! During the trip, they talk about the exciting things they want to see. After they arrive, there is a long line for tickets! Some snails want to sneak in, but Herbert decides to be patient and wait his turn. All the snails learn waiting is the right thing. Two sing-along songs on Patience are included in this touching episode.
PEACE: THE SONG WITHOUT A HEART: After not practicing, Nancy plays badly at her piano lesson. Because Nancy wants to play well at the recital, she practices all week long! She tells The Conductor about her song and how she told her teacher a lie. The Conductor teaches Nancy how to tell the truth to find peace in her heart. Included are two delightful songs about Peace.
Dove Review
This wonderful Character Builders DVD teaches children about patience and peace. It is important for children to learn about these traits. Each episode starts with a definition or description of the word. The youngsters will love the colorful animated characters as they speak about patience and making things peaceful. Along the way they will learn a few other lessons. Dove proudly awards this DVD with the Dove "Family Approved" Seal.