Chronicles of Narnia: Prince Caspian and Dawn Treader – TV
Theatrical Release:
November 30, 1989
DVD Release:
June 30, 2008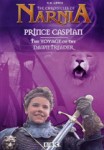 Synopsis
Follow Caspian through 2 adventures on this one disc. 2 More Chronicles of the Magical Land of Narnia:
Prince Caspian: The magical land of Narnia is ruled by the corrupt King Miraz. His nephew Prince Caspian calls on Lucy, Peter, Susan and Edmund to help him defeat Miraz and restore Narnia to its former glory.
The Voyage Of The Dawn Treader: Years later, Caspian, Lucy, Edmund, and obnoxious cousin Eustance set sail to rescue the six lords who were banished by Caspian's evil uncle. Their adventures lead them to a golden lake, a giant sea serpent, a fierce dragon and finally, the edge of the world.
Dove Review
When watching this DVD one has to remember that it was created for BBC television in 1989. It is interesting to watch as it makes you aware of the improvements made today in the film industry. It continues the saga of C.S. Lewis's Narnia Adventure. It also is a reminder how film for television has changed. This is a timeless story. We award the Dove "Family Approved" Seal to this DVD.