Hellboy 2: The Golden Army
Theatrical Release:
July 11, 2008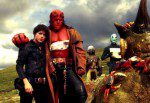 Synopsis
Ron Perlman returns to the role of the big red BPRD agent in this sequel to 2004's Hellboy, directed once again by Guillermo del Toro and scripted as before in collaboration with original Hellboy creator Mike Mignola. For centuries, an ancient truce has kept the naïve citizens of the human race safe from the horrors of the invisible realm — but that's all about to change, and fast. A ruthless leader has emerged in the invisible realm, a tyrant just as comfortable walking the surface realm as he is living in the land of fantasy. When this power-mad ruler defies his bloodline to assemble an unstoppable army of fantastical creatures that he will use to wage a supernatural war on humanity, it begins to appear that humankind's days are numbered. But Hellboy (Perlman) isn't about to stand idly by as the planet is purged by a demonic despot, and with a little help from his team at the Bureau for Paranormal Research and Defense, he may just be able to send our otherworldly overlords packing.
Dove Review
"Hellboy 2" is a visual treat, with many interesting alien creatures and some top-notch action. The film also manages to humanize Hellboy a lot, the tough-as-nails fighter who is on the right side but tends to be a bit cranky. He does love Liz though, and she has a surprise for him which the audience learns right away but he doesn't until film's end.
Ron Perlman is quite good in the title role and thanks to a father who raised him well, this demon-like creature fights for the good guys. There is an interesting plot concerning Prince Nuada (Luke Goss) and Princess Nuala (Anna Walton) who are twins, have a deep connection, and yet are on opposing sides. Whatever happens to one of them physically in turn happens to the other one.
However, despite the very imaginative plot and the eventual revelation of the Golden Army, a visual treat, the movie contains some strong language, and we are unable to award it our Dove "Family-Approved" Seal.
Info
Company:
Universal Pictures
Writer:
Guillermo del Toro and Mike Mignola
Reviewer:
Edwin L. Carpenter