The Berenstain Bears: Family and Friendship
DVD Release:
September 1, 2008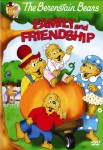 Synopsis
Take a trip deep into bear country to discover where bad dreams come from and how giving is the other end of receiving. Share the cool lessons learned from new neighbors, and why growing-up should take its own sweet time. Mama, Papa, Brother and Sister invite you to share the bonds of family and friendship in these lively everyday adventures with the Berenstain Bears.
Dove Review
This is a very family-oriented show for all ages. It helps kids learn how to share with their siblings. They also help deal with jealousy. It shows how families share, love, and help each other when there are challenges or concerns they need to deal with. It also helps establish how kids have chores and homework. It helps kids understand how having a loving caring family gives them a well-rounded life. This DVD easily receives our Dove "Family-Approved" Seal.