Clear and Present Danger
Theatrical Release:
August 3, 1994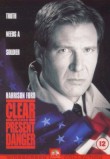 Synopsis
A close friend of the President and his family are murdered aboard their yacht in the Caribbean, setting off a chain of events that leads Jack Ryan, Deputy Director of the C.I.A., into a dangerous confrontation with the Colombian drug cartel.
Dove Review
The same thing dooms this film from receiving our Dove "Family-Approved" Seal that doomed its predecessor, namely "Patriot Games", and that is strong language.The violence level is a bit high as well. In this story, the importation of illegal drugs is cited as a "clear and present danger" (hence, the title), and the president makes it his mission to go after the illegal confederates. Unfortunately, there are those in the leadership of American government who don't go by the book, and Jack Ryan (Harrison Ford) is kept in the dark. But not for long, as Ryan begins to figure out that at least one double agent is involved in operations concerning the illegal drug cartels. The story has plenty of action and Ford turns in a very good performance, but this is not one for the family.
Info
Writer:
Tom Clancy and Donald Stewart and Steven Zaillian and John Milius
Reviewer:
Edwin L. Carpenter