King Kong (1976)
Theatrical Release:
December 17, 1976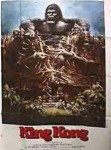 Synopsis
Fred Wilson (Charles Grodin), the owner of the oil company Petrox Corporation, invests all his possessions searching for oil on an unexplored island. The vessel leaves Surubaya, in Indonesia, with the stowaway Jack Prescott (Jeff Bridges), who wants to protect an ape called Kong. While traveling, they find the castaway Dwan (Jessica Lange) in the middle of nowhere in a rescue boat in the ocean and they bring her on board. The group finds that the island is inhabited and the local natives worship a huge gorilla called Kong. The natives abduct Dwan to offer her in a sacrifice to Kong. The crew hikes into the jungle trying to rescue Dwan. King Kong falls in love with Dwan and protects her against a huge serpent. When Fred finds that the oil in the island is not ready for use, he decides to capture Kong and bring him to New York for exhibition. In the middle of a show, King Kong escapes, bringing panic to the locals.
Dove Review
This is the 1976 remake of the original "King Kong" film from 1933. Some things have changed including the fact the giant Kong climbs to the top of the now-gone World Trade Center rather than the Empire State Building. The language also has changed as this modern version is loaded with strong language, unlike its predecessor from a more gentle period of time.
Jessica Lange made her film debut in this movie and does a fine job, as does her romantic interest played by Jeff Bridges who is named Jack Prescott in the film. Charles Grodin makes a fine money-hungry villain as Fred Wilson. Although the film does have some good moments and the special effects were good for its time, the content is strong not only in the language department but the film also includes some partial nudity. Therefore, we are unable to award our Dove "Family-Approved" Seal to this picture.
Info
Writer:
Merian C. Cooper and Edgar Wallace
Reviewer:
Edwin L. Carpenter