Dear Prudence
Network Premier:
August 23, 2008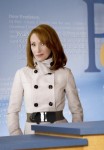 Synopsis
An expert on everything but her own life, a TV star/advice columnist finds love in "Dear Prudence," a Hallmark Channel Mystery Movie premiering Saturday, August 23 (9/8c). Emmy® and Golden Globe Award-winner Jane Seymour ("Wedding Crashers") and "Law and Order: Criminal Intent" regular Jamey Sheridan star in the whodunit-with-a-heart.
In "Dear Prudence," Seymour stars as Prudence McCoy, a humorous, Martha Stewart-like TV personality, well known for her ingenious PruPointers™ program of homespun remedies for a variety of life's little problems.
When her series wraps for the season, Prudence escapes on a much-needed vacation from her work-driven life. She ends up in Wyoming, as the guest at a lodge her mother used to frequent when the elder Mrs. McCoy was the country's best known advice columnist. When the lodge owner's son turns up dead of an apparent suicide, Prudence suspects foul play. She calls on Nigel Forsythe III,the genius scientist she works with on all her renowned PruPointers™, to join her in Wyoming and help her discern the truth.
Dove Review
This movie is a combination of "Heloise", "MacGyver" and "Columbo" all wrapped into one. Everyone loves a good murder mystery and "Dear Prudence " fits into that category. Jane Seymour does a great job in her role as the quirky Heloise-like character, as she has an answer to various problems she faces. One which comes to mind is when she uses hot sauce to remove tarnish off silverware while at dinner. There are many more cute little antidotes used throughout the movie.
Funny and full of great detective work, everyone will be entertained as they go on this adventure with Prudence and her side kick Nigel.They work their magic to this "Who-done-it". Dove awards this movie our Dove Seal.
Info
Company:
Hallmark Channel
Producer:
Les Alexander and Tom Cox
Industry Rating:
Not Rated