Mirrors
Theatrical Release:
August 15, 2008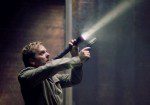 Synopsis
Ben Carson (KIEFER SUTHERLAND) has seen better days. It's been nearly a year since the volatile detective was suspended from the NYPD for fatally shooting another undercover officer, an accident that not only cost him his job, but fueled the alcoholism and anger that has alienated his wife and kids and left him crashing on his sister's couch in Queens.
Desperate to pull his life together and reconnect with his family, Carson takes a job as a night watchman at the burned-out ruins of the Mayflower department store. What once was a symbol of prosperity and grandeur now sits decaying in the darkness like a rotting ghost ship, destroyed by a massive fire that devoured numerous innocent lives.
As Carson patrols the eerie, charred remains of the store, he begins to notice something sinister about the ornate mirrors that adorn the Mayflower walls. Reflected in the gigantic shimmering glass are horrific images that stun Carson.
Beyond projecting gruesome images of the past, the mirrors appear to be manipulating reality as well. When Carson sees his own reflection being tortured, he suffers the physical effects of his fractured visions. Suddenly the troubled ex-cop finds himself battling his personal demons and the ones that have hijacked his reflection, tormenting him with convulsions, spontaneous bleeding and near suffocation.
Dove Review
Ben Carson, a suspended NYPD cop, deals with the after-effects of accidentally but fatally shooting an undercover cop. This nightmare led to his suspension from work and a break-up and separation from his wife and kids. He winds up landing a night job at a department store but things don't remain normal at this store for long. Kiefer Sutherland does a pretty good job as Carson, and the film does set up a few mystery moments as the viewer realizes something is about to happen, and the special effects are nicely done too. However, there is a lot of violence and blood in this film, not to mention some strong language, and these issues, along with brief nudity, prevent us from awarding the movie our Dove "Family-Approved" Seal.
Info
Company:
20th Century Fox
Writer:
Alexandre Aja and Grégory Levasseur
Reviewer:
Edwin L. Carpenter