The Ghost and the Darkness
Theatrical Release:
October 11, 1996
DVD Release:
December 1, 1998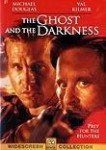 Synopsis
While working for a railroad baron (Tom Wilkinson) in colonial Uganda, engineer John Patterson (Val Kilmer) finds his construction efforts stymied by a series of lion attacks. After more than 100 workers die, grizzled hunter Charles Remington (Michael Douglas) is called in to head the increasingly desperate effort to kill the animals. Based on a true story, director Stephen Hopkins's thriller recounts an archetypal case of man vs. beast.
Dove Review
This is an interesting story with some suspense. Col. John Patterson (Val Kilmer) is an engineer who finds himself in colonial Uganda, attempting to build a bridge within six months so as to beat the Germans and French to it. The story takes place in 1898. Patterson leaves behind his young pregnant wife in London and looks forward to the birth of their child, which he hopes will be a boy.
However, he doesn't plan on the fear and panic he encounters in the village in Africa, as two large lions, which seem to have supernatural powers, have been attacking and killing the people. When Patterson successfully kills a different lion, the people hope he is the one to kill the two man-eating lions. However, when the attacks become more frequent and bloody, he soon faces their wrath as they believe his presence has caused the increase in deaths.
Val Kilmer and Michael Douglas, who plays grizzled hunter Charles Remington, are at their best in this story, and it concludes in a satisfying manner. Unfortunately, the violence of the lions killing and eating human flesh, and the bloody results, are graphic and too intense to award this film our Dove "Family-Approved" Seal as a family-friendly movie.
Info
Company:
Paramount Home Entertainment
Reviewer:
Edwin L. Carpenter