College
Theatrical Release:
August 29, 2008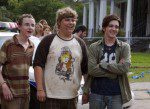 Synopsis
A new outrageous comedy, COLLEGE is the story of three high school seniors (Drake Bell, Andrew Caldwell and Kevin Covais) who visit a local college campus as prospective freshman anticipating the best weekend of their lives. Once there, the rowdiest fraternity on campus (featuring Nick Zano, Gary Owen and Zach Cregger) decides to recruit the boys as pledges, subjecting them to endless humiliations, in return for granting them access to the no-holds-barred college party scene. But once the boys catch the eye of some of the older sorority girls (Haley Bennett, Camille Mana and Natalie Walker), the threatened Frat-boys increase the pre-frosh humiliation and blackmail them by threatening to expose their age. The boys decide to fight back, retaliating with a major revenge scheme that lands them on top.
Dove Review
This movie would have you believe that a lot of college kids do nothing but party and have sex. Of course there are those who fit that category. But there are a lot of good students out there who also have strong morals and study hard. This movie explores the hedonistic side of college life and there is not much, if anything, left to the imagination. The film includes some nudity, very strong language, a lot of sex and also alcohol and drug use. This is one college you will want your family to avoid!
We are unable to award our Dove "Family-Approved" Seal to this picture.
Info
Writer:
Dan Callahan and Adam Ellison
Reviewer:
Edwin L. Carpenter