Bangkok Dangerous
Theatrical Release:
September 5, 2008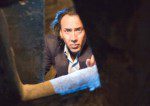 Synopsis
One man. One bullet, One shot. The life of an anonymous assassin takes an unexpected turn when he travels to Thailand to complete a series of contract killings. Joe (Nicolas Cage), a remorseless hitman, is in Bangkok to execute four enemies of a ruthless crime boss named Surat. He hires Kong (Shahkrit Yamnarm), a street punk and pickpocket, to run errands for him with the intention of covering his tracks by killing him at the end of the assignment. Strangely, Joe, the ultimate lone wolf, instead finds himself mentoring the young man while simultaneously being drawn into a tentative romance with a local shop girl. As he falls further under the sway of Bangkok's intoxicating beauty, Joe begins to question his isolated existence and let down his guard… just as Surat decides it's time to clean house.
Directors Oxide Pang and Danny Pang ("The Eye") paint an explosive picture of the Bangkok underworld, illuminated with neon and saturated in violence. Based on the Pang Brothers' wildly popular Hong Kong action film of the same name "Bangkok Dangerous" is written by Jason Richman.
Dove Review
This film manages to display some of the beauty of Bangkok, but it is a letdown in several ways. First of all, we never really learn why Joe (Nicolas Cage) is an assassin. We just know he is paid well to kill but when he meets a deaf girl in Bangkok, and a young man who assists him, he begins to have second thoughts about what he is doing. It's interesting to note that a leader of the country rides in a motorcade and Joe is in a building across the street, with a rifle, ready to take him out. The scene is set up very much like the motorcade route and the assassination of President John F. Kennedy. I am not sure what the filmmakers intended with this scene, but I won't give away what happens.
There is a lot of action in the film but some of it tends to be a bit boring as much of this kind of thing has been done over and over again in other films. There is a lot of violence in the movie, and blood, as well as some nudity, and we cannot endorse it as a family-friendly film. We do not award this picture our Dove "Family-Approved" Seal.
Info
Writer:
Jason Richman and Oxide Pang Chun
Director:
Oxide Pang Chun and Danny Pang
Reviewer:
Edwin L. Carpenter