Magdalena: Through Her Eyes
DVD Release:
January 1, 2009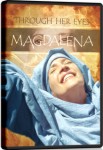 Synopsis
In Magdalena: Released from Shame, Mary Magdalene narrates the story of four women's lives that have been changed after coming into contact with a man named Jesus. Mary traces the lives of a woman caught in a scandal of adultery, another rejected and ignored because of her promiscuity, a third shunned because of a shameful condition, and a widow cast out from society, mourning the loss of her only son.
An ugly thread of shame, sorrow, and hopelessness painfully weaves its way through the lives of these women. However, watch this film together as a family and be inspired, as Jesus Christ reveals His saving grace to these women and powerfully releases them from their shame.
Dove Review
This DVD is awesome! Hear Mary Magdalene, in A.D. 40, share with a group of children the difference that Jesus made in her life as she tells the narrative of his life and death on the cross. The viewer will see recreations of the birth of Jesus, his life and miracles, his disciples, and ultimately his suffering which was climaxed with his death on Golgotha.
This film is handled with reverence and some fine acting. The scene in which Christ delivers Mary from evil spirits is not graphic but she does raise her voice and this could frighten young children. The death of Jesus on the cross, although not as graphically depicted as it might have been, still shows the nails driven in his hands and feet.
"Magdalena" is a marvelous movie! We happily award this DVD five Doves, our highest rating.
Info
Company:
Bridgestone Multimedia Group
Industry Rating:
Not Rated
Reviewer:
Edwin L. Carpenter