Were No Angels
Theatrical Release:
July 7, 1955
DVD Release:
September 27, 2005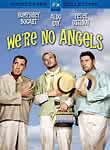 Synopsis
Humphrey Bogart, Aldo Ray and Peter Ustinov play three escaped inmates who hatch a plan to steal from a shopkeeper on Christmas. But their plans change when they find themselves actually growing to like their target and his family. Besides, the luckless merchant is apparently about to lose his shirt, as his business is unraveling. So, instead of robbing him, the convicts decide to help him, a mission that proves wildly complicated.
Dove Review
When you think of Humphrey Bogart, you don't think of comedies. But he shines in this funny movie about three escaped convicts that fall in love with the family that were targeted to be robbed. The trio of Bogart, Ray and Ustinov are hilarious. Everyone in the family (except for younger children who may get bored) will laugh at the shenanigans that these three pull to help a merchant and his family. It truly is a classic that has been left behind.
This is a delightful Christmas comedy which includes some surprises. Dove awards our Dove "Family Approved" Seal to "We're No Angels".
Info
Company:
Paramount Home Entertainment