Crossroads Cafe
DVD Release:
October 28, 2008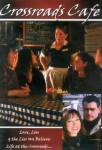 Synopsis
At the heart of the Crossroads Cafe Movie is the story of a family at a crossroads. Three sisters, Donna, Mary and Annie, grew up in Tennessee on the Family Horse farm where they enjoyed a simple life in the country… Until a tragedy caused them to all make choices about how they live and survive. Now, the three adult sisters and their mother are all at the crossroads in their lives. Coming together during the Christmas season, Mother and the girls realize they have choices to make. Will they continue to believe the lies that have controlled their lives or will they have the courage to choose the truth and walk in freedom?
Dove Review
Probably everyone in the world can relate to this story of coming to the "crossroads" of life. Three Sisters have a homecoming at the holiday season but it is not in celebration. The oldest sister's first visit since the death of her father, and after the loss of her fiancée, happens because her youngest sibling has left her husband and seems to be suicidal. But upon arrival she also learns the her mother has Alzheimer's. Little does she know that these are just the beginning factors that will change her life.
Sometimes we don't understand the reason for a death or some other situation in our lives and because of that we tend to hold in the emotions that prevent us from going on with our lives. "Crossroads Cafe" is one family's story of its past decisions which can be changed to improve the future. This movie is awarded the Dove "Family-Approved" Seal.
Info
Industry Rating:
Not Rated