The Little Pot (Illustrated)
Book Release:
May 1, 2009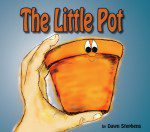 Synopsis
How do you teach young children about the value of patience and the loving omniscience of their Creator? Introduce them to "The Little Pot", a wise and winsome tale. Soon after a potter lovingly forms a new pot and declares that he has important plans for his creation, the little pot begins to wonder what its purpose will be. Will it be used to hold important documents? Great riches? Beautiful flowers?
As various expectations prove wrong, the little pot is cautioned to wait and see. Gradually, Little Pot comes to realize that its creator knows best and has the most wonderful of all uses planned for it. A valuable teaching tool for parents and educators.
Dove Review
The wonderful company of Bumble Bee Productions brings a colorful illustrated story by Dawn Stephen. This story about "The Little Pot" will help children to understand the value of patience. And that each of us may not know what is best for us but our creator does and it takes patience until that is revealed. Everyone will fall in love with this charming story and this will help with conversations regarding patience. Dove proudly awards the Dove "Family-Approved" Seal to "The Little Pot."