Lakeview Terrace
Theatrical Release:
September 19, 2008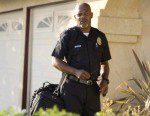 Synopsis
A young couple (Patrick Wilson and Kerry Washington) has just moved into their California dream home when they become the target of their next-door neighbor, who disapproves of their interracial relationship. A stern, single father, this tightly wound LAPD officer (Samuel L. Jackson) has appointed himself the watchdog of the neighborhood. His nightly foot patrols and overly watchful eyes bring comfort to some, but he becomes increasingly harassing to the newlyweds. These persistent intrusions into their lives ultimately turn tragic when the couple decides to fight back.
Dove Review
Have you ever had a neighbor that you wished would just move away? That is the premise of Samuel L. Jackson's latest suspense drama. At first you think this guy is a little weird but you soon learn that there is no limit to what he might do if cornered.
This could have been a creepy lesson in just how prejudiced some people can be. Unfortunately, we have to recommend that families pass on this one due to excessive language.
Info
Company:
Sony/Screen Gems
Writer:
David Loughery and Howard Korder