Star Trek 2: The Wrath of Khan
DVD Release:
October 4, 2005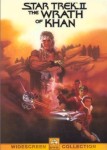 Synopsis
Although Star Trek: The Motion Picture had been a box-office hit, it was by no means a unanimous success with Star Trek fans, who responded much more favorably to the "classic Trek" scenario of Star Trek II: The Wrath of Khan. Inspired by the "Space Seed" episode of the original TV series, the film reunites newly promoted Admiral Kirk with his nemesis from the earlier episode–the genetically superior Khan (Ricardo Montalban)–who is now seeking revenge upon Kirk for having been imprisoned on a desolated planet. Their battle ensues over control of the Genesis device, a top-secret Starfleet project enabling entire planets to be transformed into life-supporting worlds, pioneered by the mother (Bibi Besch) of Kirk's estranged and now-adult son. While Mr. Spock mentors the young Vulcan Lt. Saavik (then-newcomer Kirstie Alley), Kirk must battle Khan to the bitter end, through a climactic starship chase and an unexpected crisis that will cost the life of Kirk's closest friend. This was the kind of character-based Trek that fans were waiting for, boosted by spectacular special effects, a great villain (thanks to Montalban's splendidly melodramatic performance), and a deft combination of humor, excitement, and wondrous imagination. Director Nicholas Meyer (who would play a substantial role in the success of future Trek features) handles the film as a combination of Moby Dick, Shakespearean tragedy, World War II submarine thriller, and dazzling science fiction, setting the successful tone for the Trek films that followed.
Dove Review
This film follows "Star Trek: The Motion Picture" and is based on an episode of the original series called "Space Seed" in which Khan first shows up, played by actor Ricardo Montalban. He was exiled to a planet fifteen years earlier for his insurrection while aboard the Enterprise. He now manages to escape and vengeance is a dish he wishes to serve up cold to Admiral Kirk.
This film is considered to be one of the strongest of the "Star Trek" films and includes some interesting new characters, notably a Vulcan commander (Kirstie Alley) who learns much from Spock, and Admiral Kirk's son. A major character makes a great sacrifice in the end and as a result Scottie plays bagpipes featuring "Amazing Grace" and it's a treat. However, despite an interesting plot and slick special effects, there is strong language in the film, including one character "damning" another one. Due to the language content, Dove is unable to award our Dove "Family-Approved" Seal to this film.
Info
Writer:
Gene Roddenberry and Harve Bennett and Jack B. Sowards
Reviewer:
Edwin L. Carpenter