Mickey: A Family Story by John Grisham
DVD Release:
March 22, 2005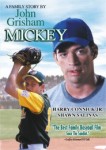 Synopsis
When widowed attorney Tripp Spence finds himself wanted by the IRS, he and his young pitching sensation son Derrick change their appearance, assume new identities and flee to Las Vegas. Here, Derrick becomes 'Mickey' and tripp enrolls him in a second final year of Little League. But as the nation, the government and a nervous Tripp watch, 'Mickey' leads his team from the city championship all the way to the controversial final game of the Little League World Series. Can a 13-year-old fugitive with an 80 mph fastball find a way to stay anonymous – and honest – as the most famous 12-year-old athlete in the world?
Dove Review
This is a very entertaining film. It shows what people who really love baseball and life will do to enjoy them. At first I was a little concerned because it gives the idea it was ok to lie and cheat. As the movie progressed It shows what happens and the price you have to pay for lying and cheating. This movie gives a few very precious reasons why life is what you make it. It also shows young and old that no matter what, honesty is always the best policy. This movie is awarded the Dove " Family-Approved" Seal.
Info
Company:
Anchor Bay Entertainment