How to Lose Friends and Alienate People
Theatrical Release:
October 3, 2008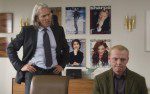 Synopsis
Sidney Young is a disillusioned intellectual who both adores and despises the world of celebrity, fame and glamour. His alternative magazine, Post Modern Review, pokes fun at the media obsessed stars and bucks trends, and so when Young is offered a job at the diametrically opposed conservative New York based Sharps magazine its something of a shock! It seems Sharps editor Clayton Harding is amused by Young's disruption of a post-BAFTA party with a pig posing as Babe. Thus begins Sidney's descent into success – his gradual move from derided outsider to confidante of starlet Sophie Maes – and a love affair with colleague Alison Olsen, that will either make him or break him.
Dove Review
A lot of people would love to be part of the "in crowd" of Hollywood and party with the stars. This is Sidney's life as he tries anything to get in to the top parties. In a funny twist, he gets a job at a top magazine in New York when he is thrown out of one of those parties. He winds up in the world of New York City, where he does not make good impressions on many people in show business. He wants to do things his way and it just doesn't work for him at first. But when things are looking up he finds that it may not be what he really wants.
The story has its good points but the language is so far over the top that it gets in the way of the lines that could be funny. This movie cannot be awarded the Dove Seal due to content listed below.
Info
Writer:
Peter Straughan and Toby Young