Crocodile Dundee
Theatrical Release:
September 26, 1986
DVD Release:
September 18, 2001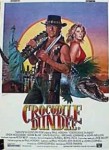 Synopsis
This 1986 comedy out of Australia is so old-fashioned in its romantic charm that one can't help but wonder what it would have looked like with Clark Gable and Carole Lombard in the leads. On the other hand, it's hard to imagine anyone besides Paul Hogan as the title character, a laid-back Aussie tracker who shows an American reporter (Linda Kozlowski) around bush country, then accompanies her to New York City. Sure, Hollywood has done the fish-out-of-water scenario to death in the last 20 years, and while this film has sufficient sport with the gimmick, it is largely driven by the principal characters and their developing love affair. Hogan cowrote the script and director Peter Faiman evokes the goofy, enchanted air of screwball comedies. The climactic scene, set in a subway station with scores of bystanders witnessing a conversation about relationship commitment, feels like vintage Capra.
Dove Review
Although this film has some funny moments, it bothers me when a character in a film talks about God and himself being buddies, as Mick Dundee does in this film, and then the same character curses the name of Jesus later on. This happens far too often.
Mick Dundee (Paul Hogan) has a reputation of having survived a crocodile attack in the Australian Outback. It is known far and wide that he lost half his leg in the attack. When American journalist Sue Charlton (Linda Kozlowski) travels to Australia to get a scoop on Crocodile Dundee, she learns that although he was wounded in his leg, the leg was saved. She also learns that Mick lives in another time period, having never been out of Australia and he hasn"t watched TV in some thirty years. In fact, when he sees an "I Love Lucy" episode in New York, where he travels with journalist Charlton, he says he saw it once "years ago".
The film showcases Dundee's lack of knowledge concerning modern conveniences when he has a difficult time getting off a downward escalator in New York. He is also surprised to learn that a woman who seems to like him at a bar is actually a man. Mick reaches for his genitals to confirm this. He is a likable sort, saying "G' day Mate" to almost anyone who passes by. He is fond of the journalist Sue, and although she has a fiancée she finds that she enjoys being with him. A lot.
Although the film has some good themes, including following your heart where love is concerned, there are some content issues.There is strong language in this film, as listed in our content area below, and one character snorts cocaine. This, along with some strong sexual innuendos, prevents us from awarding our Dove "Family-Approved" Seal to the picture.
Info
Writer:
John Cornell and Paul Hogan
Reviewer:
Edwin L. Carpenter