Max Payne
Theatrical Release:
October 17, 2008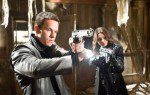 Synopsis
Based on the legendary, hard-hitting interactive video game, "Max Payne" tells the story of a maverick cop determined to track down those responsible for the brutal murder of his family and partner. Hell-bent on revenge, his obsessive investigation takes him on a nightmare journey into a dark underworld. As the mystery deepens, Max (Wahlberg) is forced to battle enemies beyond the natural world and face an unthinkable betrayal.
Dove Review
Meet the creatures of the night! Are they real or just shadows? This is a moody and dark picture and literally several scenes are filmed either in the dark or without much lighting in the scene. Mark Wahlberg plays a maverick cop named Max Payne, and his last name fits him well. He is in a lot of pain due to the murder of his wife and infant son. He has pressed his partner so hard to crack the case, that they are no longer friends. However, when a woman Payne knows is found dead, there are similarities to her case and the case of his dead wife.
Without giving the plot away, shadow creatures which resemble men as bats terrorize several characters, but are they real or if not, what is the cause and power behind them? In one scene which illustrates the mood of the picture, Detective Payne revisits his home where he had once been happy with his wife and son. It is Christmas season and the houses to the left and right of his house are decorated with bright lights. His old house is dark, without one single light on it or in it.
Despite some suspenseful moments, the film is loaded with violence and strong language, and we are unable to award our Dove Seal to the movie as a family-friendly picture.
Info
Company:
20th Century Fox
Writer:
Beau Thorne and Sam Lake
Reviewer:
Edwin L. Carpenter