Nana Star and the Moonman (Book)
Book Release:
October 1, 2008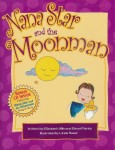 Synopsis
Nana Star is ready to bring a homesick baby star back to the heavens where he belongs, but it's dark and the world has gone to bed. Nana Star feels scared and alone. With help from a new friend, she learns that she is never alone, that the Moonman is always watching over her and guiding her on her way – even when she can't see him.
A comforting message about friendship and faith shines through this second book in the Nana Star series in terms easily appreciate especially by little listeners who don't like the dark or feeling lonely. Bonus CD featuring Nana Star and the Moonman song and story.
Dove Review
Nana Star is helping a baby sky creature to get back to his home in the sky. It gets to be nighttime and is very dark. She is guided by the moon's light. It helps her to realize she is never alone and is being watched over. The story helps children to enjoy the tale of the moon and the stars. It helps children not to fear the dark, and lets them know that there is nothing to fear when you have friends. Making friends and sharing an adventure with them is fun. This story is very enjoyable reading for children of all ages. The book also comes with a CD of the story and songs. This book has been awarded the Dove "Family-Approved" Seal.
Info
Company:
ee publishing and production
Starring:
Illustrated by: Linda Saker