Fred Hammonds: Christmas Who Needs It
DVD Release:
January 1, 2009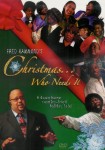 Synopsis
An intriguingly-hilarious new dramedy written by Fred Hammond – cleverly captures the true essence of Christmas! It's a motion picture brought to life by a fresh, lively cast of characters who transform this theatrical production into a feature film! James Jonathon Zaxby, an easy going, prominent businessman from Los Angeles is bitter towards God and indifferent towards Christmas due to a trade in his past and has managed to camouflage it all with a suit, tie and briefcase.
On Christmas Eve, while on his was to a business meeting in New York, this self-made millionaire who usually basks in his independence, is forced to make an emergency landing and finds himself helplessly stranded in the small, proud southern town of Cricket Fence. Here he encounters a charming yet quirky family – The Hacketts. Filled with interesting twists and surprises around every corner, "Christmas… Who Needs It?" mirrors the struggles and pain that life can sometimes bring. Although the Hackett Family experiences traumatic hardships, their unfailing love for each other coupled with their optimistic approach to life, helps James realize what the holiday season is really all about.
Dove Review
This is a truly hilarious comedy with some heart-felt drama. Most people can relate these days to the crises that are happening to the friends, family and neighbors around them. The Hackett family, with their simple way of life, have a way to ease the pain of those who have problems.
Everyone will fall in love with the variety of characters that make up the Hackett family. This family will teach the importance of love, family and faith that can get you though hard times even at Christmas. We award this film the Dove "Family-Approved" Seal.
Info
Company:
Fhammond Family Ent.
Industry Rating:
Not Rated
Starring:
Fred Hammond
,
David Whitfield
,
Ann McCrary
,
Toussaint Duchess
,
Justin "IROCC" Williams
,
Alicia Redmond
,
Calvin Nowell
,
Chris Simpson
,
Micheal Bethany
,
Dynna Wells
,
James Grace
, Pam Kenyon M. Donald,
Janette R. Smith
,
Laterras R. Whitfield
,
J.B. Edwards
,
Kelly Bender