Journal Buddies: A Girls Journal for Sharing and Celebrating Magnificence (Book)
Book Release:
October 1, 2008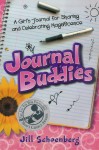 Synopsis
Journel Buddies is a whole new idea of a book. It is a journal that you share! By completing this journal, a girl learns to cultivate a personal belief system that affirms her positive aspects. Additionally, she builds an encouraging support system of buddies. And, Journal Buddies becomes a cherished keepsake that can be reflected upon time and time again.
What is the essence of Journal Buddies? The answer is simple: Sharing, Creativity and Kindness combined with guided journaling creates an unforgettable experience in building and improving a girl's self-esteem.
Dove Review
This is a very creative way to help encourage self esteem in young girls. It is so important in this day and age to help children with their self image. This delightful ingenious journal will show them a way to capture their imagination, ideas and thoughts and share them with others. Giving the diary concept a different look. This is a perfect gift for young girls.
We award the Dove "Family-Approved" Seal to "Journal Buddies: A Girl's Journal for Sharing and Celebrating Magnificence",
Info
Company:
BlueSky At Night Publishing
Industry Rating:
Not Rated