Pilgrims Progress: Journey to Heaven
DVD Release:
July 1, 2008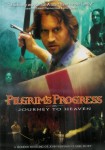 Synopsis
A modern adaptation of John Bunyan's beloved classic tale. Follow Christian and his companions on the great journey from the City of Destruction to the gates of Heaven. Along the way, the pilgrims face obstacles large and small, man-made and demon-spawned. Beyond the gripping drama, Bunyan's powerful allegory teaches us the hazards and hopes of the Christian life, and the triumphant glory that awaits all who faithfully follow the King of Kings!
Dove Review
This movie is all about good versus evil! This is a surprisingly intense story at times, including one scene in which the devil shows up to literally cast fiery darts at Christian and his shield. There are demon-like creatures in a few scenes and a mean, nasty giant. That said, the story is interesting and shows the many paths and characters which Christian meets in this piece written in 1675 by John Bunyan. Although the setting is a bit modernized, the paths and enemies which Christian and his companions meet are not. Dan Kruse does an excellent and convincing job in portraying Christian, the loyal man of God who still occasionally struggles with his faith.
This allegorical story includes characters named Obstinate, Pliable, Hopeful, Legality, Worldly Wise, Evangelist, and so forth and they are all fittingly named as their characteristics parallel their names. Christian wanders through cities named City of Destruction, Land of Vainglory, and others which also fit their names. This is an incredible journey which the audience can join! The spiritual truths which are highlighted are praiseworthy. The story effectively demonstrates that obstacles can be overcome. We gladly award our Dove "Family-Approved" Seal to this DVD and encourage families twelve years and older, to view it together. It is probably a bit too intense for younger members of the family.
Info
Industry Rating:
Not Rated
Reviewer:
Edwin L. Carpenter