Interview the Best
Theatrical Release:
October 7, 2008
DVD Release:
October 21, 2008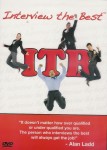 Synopsis
Alan Ladd has been helping people find jobs and impress interviewers for more than 20 years. Thousands of people are working today because of Alan's system. INTERVIEW THE BEST will teach you everything you need to know to get into or back into the work place.
Dove Review
This DVD on being prepared to land a job is excellent. Actual interview questions are given to candidates to judge their responses. Alan Ladd, the host and professional businessman, covers all the important topics of a job search including appearance, preparing a good resume, preparation for the interview, and how to best answer the interview questions. The nine features in this DVD are: Introduction, the resume, looking for a job, learning to identify your strengths, the interview, questions and answers, the close, the follow up, and finally "Good Luck"!
"It doesn't matter how over qualified or under qualified you are," states Ladd. "The person who interviews the best will always get the job." I found this DVD, which covers several topics of the job process, to be informative, logical, and well made. Ladd encourages the candidates to be at their best. We highly recommend this DVD for all ages, realizing that young children may not enjoy it, but that even children close to twelve may enjoy some of the principles of being prepared.
We gladly award this DVD five Doves, our highest level of rating. Be prepared! Don't spend hundreds of dollars in resume preparation. Get the DVD and let Alan show you what to do.
Info
Industry Rating:
Not Rated
Reviewer:
Edwin L. Carpenter