We Are Together
Theatrical Release:
July 4, 2008
DVD Release:
September 9, 2008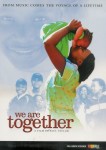 Synopsis
WE ARE TOGETHER tells the remarkable and moving story of a group of children who use music to overcome hardship and loss. Filmed over a period of three years, it is the story of an orphanage unlike any you've ever seen, where the young singers of the Agape Choir lift their voices to create the home and family they so very much need.
Life has not been easy for 12-year-old Slindile and her siblings living at the Agape Orphanage in South Africa, where most of the children have lost their parents to AIDS. These toddlers and teenagers squabble and stumble just like other youths, discovering themselves, and craving stability. Having already borne great hardships, Slindile along with her sisters and baby brother must endure the fact that their elder brother Sifiso has been diagnosed with AIDS and is slowly wasting away due to lack of medical care. And yet, when they lift their voices in song, something extraordinary happens – they overcome their fears, band together as a family, and find opportunities for hope.
With unforgettable kids, soaring music, and a plot full of surprises, WE ARE TOGETHER is a stirring experience that will stay with you!
Dove Review
This is a very emotional documentary about the children and their voices in the choir from the Agape Orphanage in South Africa. Travel with the young girl Slindile and her siblings as they tell their heart wrenching story of the loss of their parents and a brother and how they all had Aids. This tragedy is the reason they brought them to the orphanage.The DVD shows their talents and the living conditions of their young lives, a place where no matter the situation music is in the air. This is a story that needs to be told in this day and age. Due to the topic of Aids and death in this documentary it is awarded our Dove Seal for 12+. This is a great presentation for missionary and church groups.
Info
Starring:
Lorraine Bracco
,
Alicia Keys
,
Mbali
,
Mthobisi Moya
,
Nonkululeko Moya
,
Sifiso Moya
,
Slindile Moya
,
Swaphiwe Moya
,
'Grandma' Zodwa Mqadi
,
Paul Simon
,
Kanye West