The No Cussing Club (Book)
Book Release:
January 1, 2009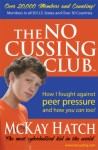 Synopsis
Young McKay Hatch at age fourteen started the NO CUSSING CLUB and, despite some bullying from others and even threats, made and is making a difference in the lives of many people. Learn how it all began and how in a mind-boggling way the club has reached out to the far flung corners of the world. This is one book which speaks of courage, and how it often comes from the person you would least expect.
Dove Review
This is a fantastic book, written by a young man who possesses a lot of courage, McKay Hatch. McKay, founder of the No Cussing Club, gives his own personal account of how and why he started the club. He shares and backs up the fact that people of greater learning and intelligence often use good and virtuous language instead of the gutter-type language which is too easily uttered by many people. He shares statistics and stories which solidify his claims that cussing has become much more frequent in recent years, and that many people feel better about themselves once they quit the cussing.
McKay shares e-mails from people who both encouraged and downgraded him. The reader learns of bullies in school, as well as cyber-bullies. McKay also shares the stories of meeting some famous people who have stood with him, including Dr. Phil and Hulk Hogan.
The reader will learn of how McKay has made a difference in many people's lives, and how that the first "No Cussing Week" recently took place. He also shares ways in which people can cut down their use of profanities. He writes of the influences of music, movies, and the internet. Also, we learn that some of his own enemies became supporters of his club and how it happened. McKay relates how the club has affected his parents and family. This is an interesting read, well written in a simple and easy to follow style, and is loaded with anecdotes and statistics. As Mckay shares a lot of stories about kids, this book is acceptable for children old enough to read it and in fact we would encourage kids to read it. We gladly award this book our Dove "Family-Approved" Seal. Way to go McKay! Keep up the good work.
Info
Reviewer:
Edwin L. Carpenter