Quantum of Solace
Theatrical Release:
November 14, 2008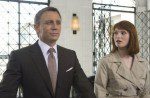 Synopsis
"Quantum of Solace" continues the high octane adventures of James Bond (Daniel Craig) in "Casino Royale." Betrayed by Vesper, the woman he loved, 007 fights the urge to make his latest mission personal. Pursuing his determination to uncover the truth, Bond and M (Judi Dench) interrogate Mr White (Jesper Christensen) who reveals the organization which blackmailed Vesper is far more complex and dangerous than anyone had imagined.
Forensic intelligence links an Mi6 traitor to a bank account in Haiti where a case of mistaken identity introduces Bond to the beautiful but feisty Camille (Olga Kurylenko), a woman who has her own vendetta. Camille leads Bond straight to Dominic Greene (Mathieu Amalric), a ruthless business man and major force within the mysterious organisation.
In a minefield of treachery, murder and deceit, Bond allies with old friends in a battle to uncover the truth. As he gets closer to finding the man responsible for the betrayal of Vesper, 007 must keep one step ahead of the CIA, the terrorists and even M, to unravel Greene's sinister plan and stop his organisation.
Dove Review
Lights, camera, and action, action, action! This film has almost non-stop action and violence. Viewing the film was a bit like being involved emotionally in a whirlwind. It is entertaining in certain scenes for sure, but plot and character development suffer a bit in this one.
Two characters seek revenge in this film including Mr. 007 himself, James Bond (Daniel Craig). They each find different conclusions by film's end. Unfortunately for families, there is a lot of violence, and some of it is a bit bloody. That, along with strong language, and an emphasis on sex in a few scenes, prevents us from awarding this film with our Dove "Family-Approved" Seal.
Info
Writer:
Paul Haggis and Neal Purvis and Robert Wade
Reviewer:
Edwin L. Carpenter