Bolt
Theatrical Release:
November 21, 2008
DVD Release:
March 24, 2009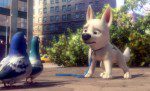 Synopsis
Available in 3D in some theaters.Check your local listings.
From Walt Disney Pictures comes an animated comedy adventure featuring a super-dog named BOLT (voice of JOHN TRAVOLTA), whose days are filled with danger and intrigue-at least until the cameras stop rolling. When the star of a hit TV show is accidentally shipped from his Hollywood soundstage to New York City, he begins his biggest adventure yet-a cross-country journey through the real world to get back to his owner and co-star, Penny (voice of MILEY CYRUS). Armed only with the delusions that all his amazing feats and powers are real, and the help of two unlikely traveling companions-a jaded, abandoned housecat named Mittens (voice of SUSIE ESSMAN) and a TV-obsessed hamster named Rhino (voice of MARK WALTON)-Bolt discovers he doesn't need superpowers to be a hero.
Dove Review
"Bolt" is like a lightning strike because, as lightning surprisingly strikes, this movie is surprisingly good. The audience I screened it with roared with laughter on several occasions and there were many adults laughing along with the kids. Rhino the hamster steals scenes with his facial expressions and determination to help Bolt be reunited with his "person" as the movie calls her, Penny.
The premise is that Bolt doesn't realize that he is making a TV show along with Penny, and that many of his super hero powers such as his super bark and his heat vision eyes, are all special effects. When he and Penny are separated, he goes in search of her, not realizing that she is safe and back at the TV studio, waiting to make new shows with her co-star. Bolt runs into some unusual and surprising help, including the skeptical female cat Mittens, and Rhino the hamster.
Follow Bolt on his journey and you will laugh all the way to the credits! The film has a few intense scenes in the beginning which are actually scenes for the TV show. A few of the scenes might be a bit intense for very young viewers, and parents should consult our content listings below. Much of the action is cartoon-like. The kiddies in the audience I screened the film with loved it and laughed a lot. We happily award "Bolt" our Dove "Family-Approved" Seal.
Info
Writer:
Dan Fogelman and Chris Williams
Director:
Byron Howard and Chris Williams
Reviewer:
Edwin L. Carpenter