Twilight
Theatrical Release:
November 20, 2008
DVD Release:
March 21, 2009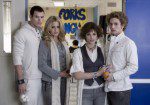 Synopsis
"Twilight" is an action-packed, modern-day love story between a teenage girl and a vampire. Bella Swan (Kristen Stewart) has always been a little bit different, never caring about fitting in with the trendy girls at her Phoenix high school. When her mother re-marries and sends Bella to live with her father in the rainy little town of Forks, Washington, she doesn't expect much of anything to change. Then she meets the mysterious and dazzlingly beautiful Edward Cullen (Robert Pattinson), a boy unlike any she's ever met. Edward is a vampire, but he doesn't have fangs and his family is unique in that they choose not to drink human blood. Intelligent and witty, Edward sees straight into Bella's soul. Soon, they are swept up in a passionate, thrilling and unorthodox romance. To Edward, Bella is what he has waited 90 years for – a soul mate. But the closer they get, the more Edward must struggle to resist the primal pull of her scent, which could send him into an uncontrollable frenzy. But what will Edward and Bella do when a clan of new vampires – James (Cam Gigandet), Laurent (Edi Gathegi) and Victoria (Rachelle Lefevre) – come to town and threaten to disrupt their way of life?
Dove Review
Editor's Note – This is a movie about Vampires but has no biblical mockery typically found in this type of picture. The reader is also cautioned that Dove makes no endorsement of the book series where this film finds its roots
I have never been a fan of vampire movies, but I must say this was not at all what I expected to see. The film starts out like any teenage love story about a girl who has recently changed schools. She is trying to fit in and make new friends. As in most teen romances, Bella is attracted to the cute guy in school but this one has a secret in his life which results in complications for both of them.
The movie has bad vampires and good vampires – if that is possible. If you take into account that this is a fictional tale about mystical creatures then anything is possible but remember, this is a movie. There are even a couple of comical scenes such as when a family of vampires plays baseball in a most unusual way. The story keeps you engaged and I was amazed that the movie-makers did not use a great deal of language, gory scenes or many sexual situations as most teen flicks do today. In fact they used Edward's inner flaws and insecurities as a reason for him to not get intimate with Bella.
This film does show many positive elements such as a protective and close-knit family unit, self sacrifice and caring for others. These things are hard to find in many films geared toward a teen audience and we are pleased that they are integral parts of these role model characters. If vampires give you the creeps or you frequently evaluate movies based on theological considerations then we caution you to avoid this picture. However, our content guidelines do allow us to award our Dove Seal to this movie for ages 12 and over.
Info
Company:
Summit Entertainment
Writer:
Melissa Rosenberg and Stephenie Meyer