Come Dance with Us (CD)
DVD Release:
November 10, 2008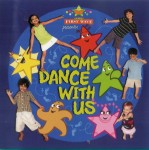 Synopsis
A funny, enjoyable CD with catchy songs. It contains original lyrics and music composed by co-founder Dolores Ormandy Neumann, and niece Eugene Ormandy, the world famous former conductor of the Philadelphia Orchestra. The Cd teaches young children about time, geography, phonetics, arithmetic, and many more subjects through music.
Educators have discovered that children can learn and remember concepts particularly when these concepts are set to music and rhythm. The music is engaging and allows the songs to be repeated and remembered.
Dove Review
This fantastic CD will have your youngsters dancing around the room while they learn about vowels or being on a farm and much more. With wonderful songs that will put a smile on their faces and great thoughts in their minds. Children love music and what a creative way to educate them by using toe tapping fun songs and stories like these. Dove is proud to award this CD the Dove "Family-Approved" Seal.
Info
Industry Rating:
Not Rated