Star Wars: Episode V – The Empire Strikes Back
Theatrical Release:
May 21, 1980
DVD Release:
September 21, 2004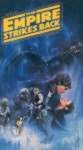 Synopsis
The battle to save the galaxy from the evil of Darth Vader rages on in the spellbinding Star Wars sequel that is one of the highest-grossing films of all time. In a spectacular opening battle the Rebels suffer a devastating attack by the Imperial army using At-AT Walkers. Han Solo (Harrison Ford), Princess Leia (Carrie Fisher) and Chewbacca survive, and fight a running space battle against Imperial ships. Luke Skywalker (Mark Hamil) seeks out Yoda, the ancient Jedi Master, to be trained as a true Jedi Knight. Meanwhile, Darth Vader is scheming to lure Luke to the Dark Side of the Force, or to kill him in their final showdown-a stunning duel in which Luke learns the secret of his destiny. This dazzling adventure introduces the charming, shifty rogu, Lando Calrissian (Billy Dee Williams) and Yoda, one of the most delightful, ingenious and instantly successful characters to ever light up a movie screen. An awesome array of special effects, blazing action, and imagination, The Empire Strikes Back has benn hailed as one of the greatest motion pictures ever made
Dove Review
This second film in the original "Star Wars" trilogy, or "episode five" in the six film set, is considered by many to be the best in the entire series. Director Irvin Kershner developed the characters in this film, and with the introduction of Jedi master Yoda, a delightful character voiced and puppeteered by Frank Oz, and the raging battle on the ice planet Hoth, as well as the climatic lightsaber battle between Luke Skywalker and Darth Vader, this film soars. The movie also has the now classic line, which Vader utters to Luke after cutting off his right hand with a lightsaber, "I am your father."
The film does end with a cliffhanger, but in many ways it seems appropriate since the "Star Wars" films themselves, according to creator George Lucas, are based on the old serials he watched in theatres when he was growing up. This film is not only brilliantly directed, but is a feast for the eyes with the great special effects including the Empire's chase of Han Solo through a meteorite shower. The film may be intense for children under twelve considering a few scenes which include a snow creature attacking Luke Skywalker, and the flesh-searing lightsaber battle. I am recommending it for ages twelve and up, although parents of mature youngsters around the age of eight and up may decide independently if their children are mature enough for the film. Some may be concerned with the use of the force, but it is allegorical.
Info
Company:
20th Century Fox Home Ent.
Reviewer:
Edwin L. Carpenter