Strawberry Shortcake: Rockaberry Roll
DVD Release:
August 12, 2008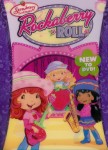 Synopsis
There's music in the air- and lots of fun, too – for Strawberry Shortcake and all her friends! Strawberry and her pals form their own band, Strawberry Jam, and enter the Strawberryland Talent Show. But when they start playing no one listens to each other, and they don't make the cut. When the band gets a second chance to audition, the girls discover that with a little teamwork, they can make beautiful music together. When Peppermint Fizz wants to join the group, her trumpet only hits sour notes. But Strawberry shows Peppermint that if you keep on practicing, those sour notes can turn berry sweet!
Dove Review
In "Rockaberry and Roll" Strawberry Shortcake shares stories centering around music. I love the little opening with the music of the garden. In the first story Strawberry Shortcake decides to hold a talent show and puts together a band. The girls must learn the value of working together and listening to one another. Again, Strawberry Shortcake's optimism and sweetness shows how much easier it is to work out problems with kind words rather than mean ones. In the second story Peppermint learns that practice makes perfect and it is okay to feel frustrated and make mistakes because that is how we learn. There is also a nice little twist in this story about good and bad ways to help friends when Huckleberry tries to help build Peppermint's confidence by fooling her. All in all I found Strawberry Shortcake's stories, music, and lessons to be truly inspirational.
Info
Company:
20th Century Fox Home Ent.