Strawberry Shortcake: Big Country Fun
DVD Release:
December 1, 2008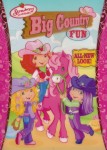 Synopsis
Yee-ha! Strawberry and her friends are in for some of the berry best fun in the west! Strawberry and Angel Cake take jobs at Berry Prairie Dude Ranch and turn out to be excellent little cowgirls! But when the two friends must compete to become "Best Ranch Hand" they lose sight of their responsibilities – and their horseback riding trail! Will they realizes that being careful and listening to direction is more important than winning?
More Challenges gallop in when the Purple Pie Man tries to put Carmel Corn's farm out of business so he can replace it with an amusement park – PieManLand! Hoping to help out, Strawberry and her pals put on a good old-fashioned country fair to earn enough money to keep their berry favorite farm in business.
Dove Review
On "Big Country Fun" the bubbly and optimistic Strawberry Shortcake teaches children the importance of having fun and doing your best is more important than winning. The girls also learn a valuable lesson about following directions when they get stuck on a mountain path they weren't supposed to take. In the next story Strawberry helps her friend save her farm and uncover the mystery as to why her animals are disappearing. One of the lessons in this story is the importance of never giving up, and the whole cartoon is full of positive messages. The characters are oh so cute and I can't help but think Strawberry Shortcake's berry sweet attitude would be contagious to small children. This DVD is awarded the Dove "Family-Approved" Seal.