Care Bears: Grizzlely Adventures
DVD Release:
December 1, 2008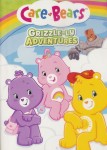 Synopsis
These fun stories include the new bad bear in the neighborhood – Grizzle! He's a mean little bear in a big robot suit who hates caring. Can the Care Bears thwart his evil plots?
Broken – Share Bear won't share her favorite necklace to help a friend, but goes to Grizzle instead. Will Grizzle help or just share more trouble with the Care Bears?
Emma's Dilemma – Things are missing all over Care-A-Lot? The Care Bears let Emma help – but she ends up missing, too, thanks to Grizzle. Can Emma and the bears find a way out of Grizzle's trap?
Dove Review
In the first episode,"Broken", on "Grizzle-ly Adventures" I was very sad to see our poor friend Wing-nut broken. Of course, Grizzle claims to have turned over a new leaf and offers to "fix" little Wing-nut. Again, I love Grizzle's sense of humor and I think his character offers a nice balance to keep the Care Bears from being too over the top in sweetness. I also like the fact that the Care Bears work together to solve their problems and this episode also shows the importance of not jumping to conclusions.
In the second episode, "Emma's Dilemma", we meet a little girl angry with her brothers for not wanting to play with her. She comes to Care-a-Lot to help find the Care Bears missing things, but she ends up rescuing the Care Bears from Grizzle. Emma learns that it is okay to be yourself and that everyone is different and these differences are what make each of us special. This DVD easily receives our Dove "Family-Approved" Seal.
Info
Company:
20th Century Fox Home Ent.