Care Bears: Oopsy Does It
DVD Release:
August 7, 2007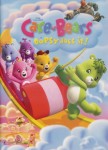 Synopsis
The Care Bears are back and bigger than ever…except for the little "Oopsies." Oopsy Bear is the only Care Bear without a belly badge. He got his name because he is always having little mishaps. When Cheer Bear and Grumpy Bear build an amusement park for their friends, Oopsy Bear accidentally destroys it. Grizzle, an evil bear, uses Oopsy's mistake in a plot to steal the Care Bear's belly badges. Will Oopsy stumble to the rescue or will he just stumble?
Dove Review
In "Oopsy Does It" the Care Bears are building a new theme park, but Oopsy's clumsiness leads to many mini disasters. Grizzle is the bad guy with his sidekick, Wing-nut, out to take the Care Bears' belly patches. This is a cute and fun cartoon in which I truly enjoyed the humor; especially Grizzles witty comments. The Care Bears learn that it is okay to make mistakes, it is okay to ask for help, and most importantly the belly patch does not make a Care Bear- it is what is on the inside that makes you who you are. I loved the story and in the end I thought it was great that Oopsy gets a new friend in Wing-nut.
Info
Company:
20th Century Fox Home Ent.