Care Bears: Ups nd Downs
DVD Release:
December 1, 2008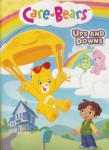 Synopsis
Even Care-A-Lot has its ups and downs. Laugh with the Care Bears through theirs in these two funny stories.
Cheer Up – Cheer Bear wants to throw a surprise party for Surprise Bear. But how can you possibly surprise Surprise? And, who will cheer up Cheer Bear when she gets frustrated trying to hide the party plans from Surprise?
Down To Earth – Jake moved to a new town and is missing his old friends. Can Funshine Bear show him how to"find the fun" and make new friends in his new neighborhood? And, will Funshine make it back to Care-A-Lot?
Dove Review
"Care Bears Ups and Downs" has two fun episodes focusing on different feelings. The first episode, Cheer Up, talks about feeling frustrated and the difference between frustration and anger. Poor Cheer Bear tries to throw a surprise party for Surprise Bear, but Surprise bear keeps popping up. I couldn't help but laugh and empathize with her poor dilemma. I think it was sweetly done and shows how it is good to sort through our feelings and not to take them out on others. The second episode, Down to Earth, helps a little boy deal with his feelings about about moving. There is an adorable part about Funshine Bear gong into the wash machine, but they are sure to comment that this is only safe for Care Bears and not humans. I was slightly disappointed in a comment made about not telling adults about Care Bears because they wouldn't understand. I don't think it is appropriate to encourage children to keep secrets from adults and I think this should have been worded differently or focused more on the imagination of the bears. Still, the good far outweighs any negative and we gladly award our Dove "Family-Approved" Seal to this DVD.
Info
Company:
20th Century Fox Home Ent.