Rich in Spirit
DVD Release:
October 9, 2007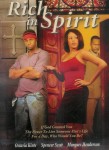 Synopsis
Valerie, a devout Christian, is in love with Ray the pastor at her local church. This is a secret that is known by the entire congregation but has slipped past the good reverend. Valerie decides it's time to make the first move. Before she gets her chance the object of her affection has an accident that causes him to magically switch bodies with the church's gardener. Getting her man may be more difficult that she thought.
A Pastor, A Pauper and a Princess will have to put faith and prayer to the ultimate test.
Dove Review
This comedy is set among a Christian center, a church, homeless center and a park where homeless people hang out. The minister and the homeless man are electrocuted and switch bodies like in the movie "Freaky Friday". When someone switches bodies with someone else, making them responsible for that person's life, it can result in true comedy. The comedy continues when the aforementioned switch is made between a homeless man and a preacher. Total chaos happens when the homeless guy now tries to be the minister of the church and the preacher gets into trouble with the police as the homeless man.
Both men learn some very important life lessons that they take with them when they return to their own bodies. It will entertain the entire family but because of some content and some situations in this movie it is recommended for the age group of 12+. It has been awarded our Dove "Family-Approved " Seal.
Info
Company:
Lightyear Entertainment