Escape from Alcatraz
Theatrical Release:
June 22, 1979
DVD Release:
March 9, 1999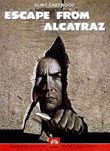 Synopsis
After being sent to the nation's toughest prison for life, career criminal Frank Morris (Clint Eastwood) quickly starts planning his unauthorized departure. Enlisting two bank-robber brothers (Fred Ward and Jack Thibeau) as accomplices, Morris meticulously works out every detail before commencing his daring escape attempt. Director Don Siegel's taut thriller is based on the only successful jailbreak from the infamous island penitentiary.
Dove Review
When Frank Morris (Clint Eastwood) lands in Alcatraz, it doesn't take him long to realize it's not the kind of place he wants to stay at for long. Alcatraz has a record of no one having ever successfully escaped. Morris decides he can be the exception and he enlists the help of a few other prisoners to make it happen.
The prison life is featured rather graphically in a few scenes, including a fight in the shower when a man named Wolf makes a pass at Morris, and there is a bloody scene in which an older prisoner, having been stripped of his precious paints, chops off his own fingers with a hatchet.
The themes of corruption and not losing hope are realistic themes, but the movie crosses the acceptable level in the language, violence and nudity content areas, and we therefore cannot award our Dove Seal to the film as a family-friendly picture.
Info
Company:
Paramount Home Entertainment
Writer:
J. Campbell Bruce (book); Richard Tuggle (screenplay
Reviewer:
Edwin L. Carpenter