Four Christmases
Theatrical Release:
November 26, 2008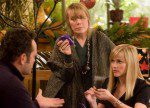 Synopsis
When upscale, happily unmarried San Francisco couple Kate and Brad find themselves socked in by fog on Christmas morning, their exotic vacation plans morph into the family-centric holiday they had, until now, gleefully avoided. Out of obligation–and unable to escape–they trudge to not one, not two, but four relative-choked festivities, increasingly mortified to find childhood fears raised, adolescent wounds reopened… and their very future together uncertain. As Brad counts the hours to when he can get away from their parents, step-parents, siblings and an assortment of nieces and nephews, Kate is starting to hear the ticking of a different kind of clock. And by the end of the day, she is beginning to wonder if their crazy families' choices are not so crazy after all.
Dove Review
Many people in today's world may relate to this comedy. If you come from divorced parents, you definitely will understand where the plot is heading. Brad and Kate each are in that classification so of course that makes four separate Christmases. But they usually lie to their families so they don't have to commit to the whole family thing. Each visit brings a variety of situations that the loving couple is forced to endure which makes their attitudes for marriage, children and family apparent.
This is supposed to be an hilarious comedy; it falls short at times even with a stunning cast of stars. Most of the comedy in this movie comes in the form of slapstick and even that is sparse. The rest of this film shows nothing more then disrespect for family and relationships. Having families humiliate you is not funny in any situation. For the many reasons outlined below, this movie can not be awarded our Dove "Family-Approved" Seal.
Info
Writer:
Matt Allen and Caleb Wilson