Pastor Jones: Sisters in Spirit
DVD Release:
August 14, 2007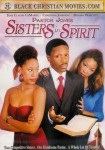 Synopsis
Two sisters. One handsome pastor! An aging Pastor Wright decides to retire from the pulpit. He brings in church star Pastor Jones to temporarily take over his ministry. His two young daughters, Nikki and Monique, are immediately smitten with the young pastor. Now they must place their relationship at risk as they compete for Pastor Jones affection. Unbeknown to them, the secret that their father has been holding will blow the lid off everyone's expectations.
Dove Review
This is a story of two sisters who are best of friends while growing up and love doing things together. They especially love to sing gospel music together in their church where their father is the minister. But as they start growing older they both develop their own separate lives. Monique becomes a teacher and Nikki an advertising agent. Although the girls have different lives they continue to stay very involved in their Dad's church.
Changes come about when one day their father decides it is time to retire from his ministry and a new minister comes to the church to take over. Joseph, the new minister, is a handsome young man. This creates a problem with the girls, who are both attracted to him. As he spends time with each girl the green eyed monster of jealousy appears in each sister. This feud between the sisters makes everything difficult for family gatherings. A tragedy hits their family and they both feel guilty for the way they have acted. This is a film that reveals how God really does have our lives in his hands, making it evident that anything can and will happen.The end of the story may surprise you. This film has been awarded our Dove "Family- Approved" Seal.
Info
Company:
Lightyear Entertainment