Dont Touch: If You Aint Prayed 2
DVD Release:
November 29, 2008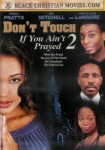 Synopsis
Young Noelle has left the confinement of her mother's home, and the tutelage of Pastor Jones to face a new chapter of her life.
Now as she heads to college she faces new challenges. Forced to live with her ultra conservative aunt while she attends school, Noelle must adjust to living in a traditional Christian household. Meanwhile, at her new campus, Noelle meets Tasha and immediately befriends her.
What Noelle doesn't know is that Tasha has a secret dark side, and this soon begins influencing Noelle in ways that places Noelle's faith into question. While tension builds within her aunt's household and her life begins spiraling out of control, Noelle encounters a new romantic interest in Curtis. How will she handle the growing conflict in her life?
Dove Review
This story explores life's hardships and trials that test the faith as seen by an eighteen year old girl. Noelle is a bit of a problem child for her mom, so a decision is made for her to move to her aunt's home in California for a fresh start. Now in a traditional Christian home, Noelle starts going to her aunt's church and begins to make new friends.
A change takes place when Noelle enters college and meets a girl named Tasha. Life begins to take a downward slide for Noelle as she begins to party, stay away from home, and she almost fails her classes in college. All this causes problems between Noelle and her aunt. Although God does have a plan for Noelle's life, she does not see it at first. Finally she sees the light and she corrects her lifeand#700;s path and heads in the right direction. Due to some of the content in this film Dove recommends it for ages 12 and over and we happily award it our Dove "Family-Approved" Seal.
Content Description
Drugs:
Reference to cocaine use; under age drinking; main character shown intoxicated but there are consequences.
Info
Company:
Lightyear Entertainment