Take a Leap of Faith
DVD Release:
November 4, 2008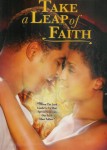 Synopsis
The Story of a Woman named Rose Montgomery. Rose is a spiritual, independent, and sophisticated woman. So why is it so hard for her to find her way in love? Could it be that her faith in God needs more attention, or maybe it's that she has just too many men to choose from? Turns out she is simply waiting for the one that knows her best, then she'll commit with her whole heart and soul. As time on the clock goes by in her life, we explore Rose's relationships with the men she meets. Mitch: the rich guy, Moet: the romantic, and Winston…Her best friend since college and her business partner. As it turns out the two of them are much more than she ever expected. Rose didn't think she was going to fall for Winston, but after trying to find "Mr. Right" out there, she winds u[p finding him exactly where he's always been, right beside her.
Dove Review
This is a modern day story about faith, family, relationships, and careers. In the beginning Rose and Winston are business partners. Rose is more outgoing and dates, while Winston is rather shy, sticks to his career path and has a few friends. Although the two are single they watch life in the lives of their single and married friends. Working closely together they try to keep their relationship in perspective as partners and casual friends but sometimes this is difficult to achieve.
Rose and Winston believe in God and decide to let the Lord guide them in their lives. With that decision they come to realize that they are much happier as a romantic couple rather than just business partners. The couple find the importance of putting their lives in God's hands, and that everything can work out. Due to the subject of dating, Dove recommends that this DVD is "Family-Approved" for 12+.
Info
Company:
Lightyear Entertainment